What is MobiLock Kiosk Browser?
---
---
MobiLock Kiosk Browser is a custom & highly configurable web browser. It allows you to lock your Android tablet to a specific website or group of sites preventing end users to accessing any other websites.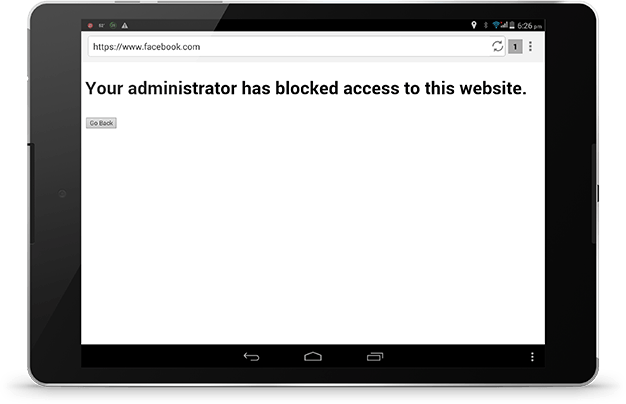 Kiosk Browser Lockdown Features
---
---
Following are our Lockdown Browser Features

---
Secure Browsing Experience
---
When in Kiosk Mode restrict user's browsing to preferred whitelisted websites

---
Remote Configuration
---
Whitelist preferred URLs and then push them to the devices of your choice.

---
Multiple URL Shortcuts
---
Display single or multiple URL shortcuts of whitelisted websites on the custom Kiosk screen.
MobiLock Android Kiosk Browser
---
---
Lockdown Browser for Public Kiosks:
---
Deliver interactive digital experience to your customers by turning Android tablet into single-purpose kiosks with Kiosk Browser Lockdown method. In this, the device is locked in Kiosk Mode and will only run the browser of your choice. You can deliver online surveys, display product website or allow in-store digital purchases with the MobiLock Kiosk Browser.
---
Lockdown Browser for Enterprise:
MobiLock Kiosk Browser safeguards data and increases employee productivity by controlling access to public websites on Android devices. You can block access to data consuming and non-business related websites like YouTube, Netflix etc.
Features of MobiLock Kiosk Browser
---
---
---
Display Browser Address Bar
Allows user to type in URLs to navigate, but the whitelisting still applies
---
Allow Multi Tabs
Allow user to open multiple tabs. If allowed then browser address bar will be displayed.
---
Enable Incognito Mode
No history, session cookie or form passwords are remembered after browser is closed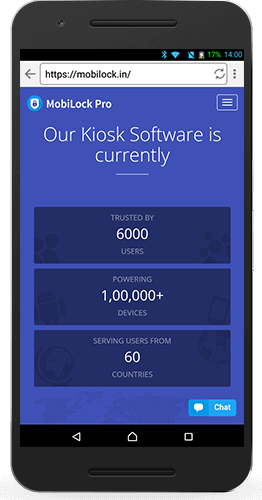 ---
Disable Back Buttons(Hardware and Navigation)
Back navigation buttons will be disabled, user can use back button of Browser for navigation
---
Location Tracking
Track location of Android devices in real-time.
---
Enable JavaScript API access for this URL
Allows you to access some data from the device using JavaScript when running in MobiLock Browser.
Remote Device Management
---
---
MobiLock Kiosk Browser is part of MobiLock Pro - Kiosk Lockdown Software. With MobiLock Pro Suite, you can remotely configure MobiLock Kiosk Browser, control & manage Android kiosks, track device locations and manage a host of other things on the device.