Transform A Tablet In Kiosk Mode
---
---
Turn your Android tablets into Kiosks in just a few clicks with MobiLock Pro
Android Kiosk Mode with MobiLock Pro
---
MobiLock Pro's Kiosk Mode replaces the default home screen with a custom launch screen called as kiosk screen that is customizable. Kiosk screen displays a single app, a specific set of apps or website shortcuts. This prevents the user from accessing any other applications (apart from the apps that are displayed on the screen), recent apps tray, system notification and device settings. The Kiosk screen can be customized with a logo, wallpaper, app icon size etc.
---
Business Use-Case Example:
Food & Beverage
Tablets are used in Food & Beverage sector for taking orders. The Owner might want to restrict employees from playing games or browsing the web while they use the tablet.
Logistics
A logistics company, has provided Android tablets/phones to its field-force. The company might want to prevent its employees from using video stream apps or games so that its employees remain focused on the job.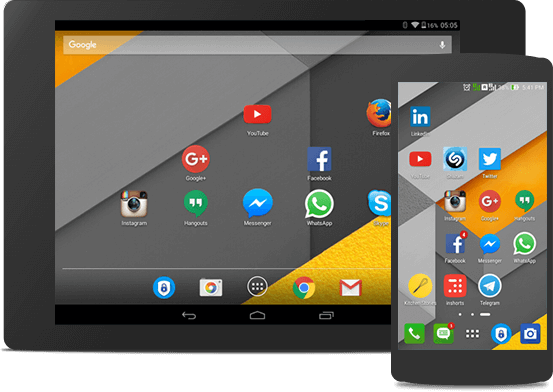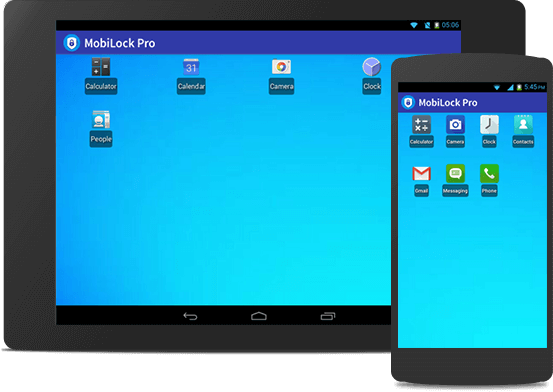 What is Kiosk Mode in Android?
---
---
Android Kiosk Mode is generally referred to a particular "mode" that restricts access to other interfaces of a particular application or device. "Kiosk Mode" is used in scenarios where the user's focus should be on the task at hand, content and/or experience. The classic example of Kiosk Mode is Automated Teller Machines (ATMs) in which user's focus is kept at the task of withdrawing money and only the interface required to perform this task is shown. Users at the ATM cannot access the system setting, other apps or interface that is not part of the user facing Kiosk.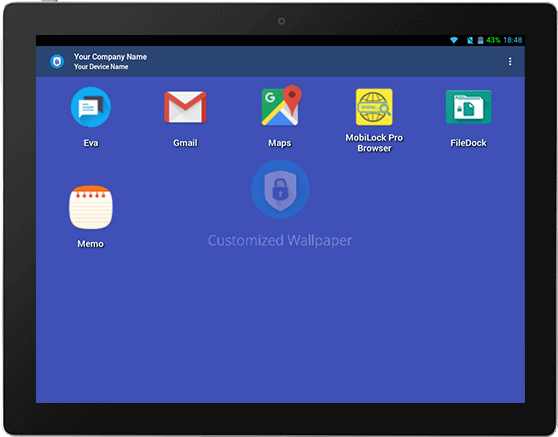 Types of Kiosk Mode
---
---
With MobiLock Pro you can restrict users to following kiosk mode types

---
Single App Mode
---
Restricts device to run only single app at all the time & disabling user access to the device settings

---
Kiosk Browser Mode
---
Run browser apps in full screen without any other browser user interface, such as toolbars & menus

---
Multi App Mode
---
Allow access to selected multiple apps to run without accessing the device settings
Features of MobiLock Pro
---
---
Efficient way to streamline your mobile workflow
---
Password Protected Kiosk Mode
User can't able to exit MobiLock Pro app and access settings of an Android device & app without a password.
---
Single App Mode
Run any application in single app mode at all the times
---
Remotely Install Apps
Remotely install/uninstall apps from the devices that are managed with MobiLock Kiosk Mode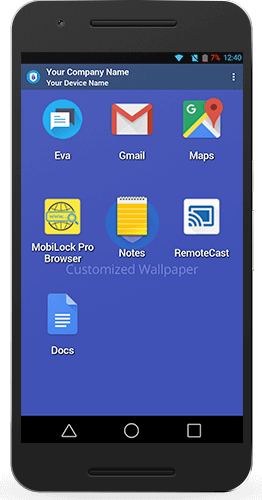 ---
Custom Branding
Remotely update device home screen to reflect your custom branding with your company logo, name, and background wallpaper
---
Location Tracking
Track location of Android devices in real-time.
---
Multi App Mode
Allow user access to multiple apps
MobiLock Pro is perfect for
---
---
MobiLock is being used across different industry verticals
---
Logistics
---
MobiLock Pro helps to track the real-time location of your driver and restrict them from playing video games or accessing unusual apps present on the device.
---
---
Retail
---
In the retail sector, MobiLock turns Android devices into kiosks to showcase products for providing the customer an easy and faster way to the checkouts.
---
---
Food & Beverage
---
In Food & Beverage sectors, an order has been taken using tablets to service faster & the owner might want to restrict staff from using other apps & browsing the web.
---
---
Education
---
Using kiosk mode in schools & institutions help administrator to lock unnecessary apps in the device and prevent students from accessing video streaming apps & games.
---