Kiosk Lockdown App for Android
---
---
Our Android kiosk app makes it easy to run your device in kiosk mode
Powerful features that you need
---
Remotely manage your devices from the dashboard
Deploy thousands of devices with ease
Restrict users to only one app or a set of specific apps
Prevent users from installing or using unwanted apps
Allow user access to only specific websites
Collect data usage with advanced analytics
Save data cost and increase productivity
Easy to use & no programming required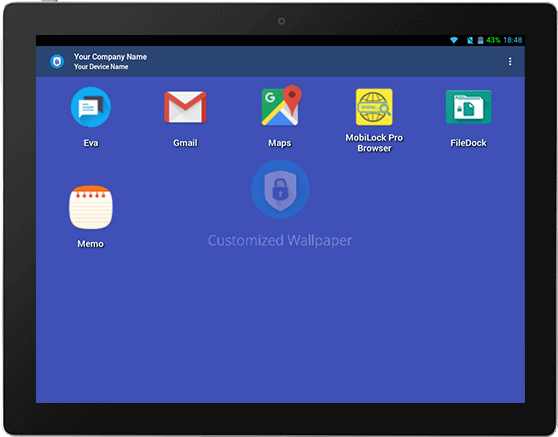 Types of Kiosk Lockdown App
---
---
Following are different use-case of our Android Kiosk App

---
Single App Lockdown Mode
---
Lockdown the Android device to run only one app at all the time & prevent access to other apps

---
Kiosk Browser Lockdown
---
With Browser Lockdown allow access to only specific websites

---
Multi App Lockdown Mode
---
Allow user access to multiple apps that users can choose which apps to use
Features of MobiLock Pro
---
---
Powerful kiosk lockdown app features that are right for your business
---
Password Protected Kiosk Lockdown
Restrict users from accessing device settings, installing unauthorized apps & exiting MobiLock Pro App.
---
Remotely Lock/Unlock
Easily lock and unlock your Android devices remotely from our web-based dashboard
---
Clear Device Data
Remotely clear SD Card data of your devices from our web-based dashboard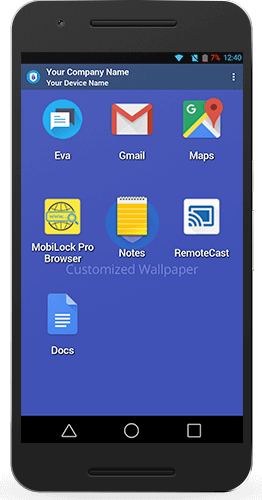 ---
Custom Roles & Permissions
Account owner can create new admin with custom roles and permissions
---
Custom Branding
Remotely update your company logo & custom wallpaper to all your Android devices
---
MobiLock Kiosk Browser
MobiLock browser allows access to only specific websites and Restrict access to other websites
Our Kiosk Lockdown Software is perfect for
---
---
MobiLock kiosk app is being used across different industry verticals
Logistics
---
Manage your freight safely and securely by turning down your company-owned devices into kiosk mode and preventing your drivers from accessing video streaming apps or games while on job.
---
Restaurant
---
Replacing your paper menu with tablets can bring a desirable change in your restaurants. Converting these tablets into kiosks on the restaurant tables lets the customers order the food by themselves.
---
Retail
---
Integrating Tablets as POS system using MobiLock Pro is ideal for entrepreneurs to monitor their staff's work in real time which will benefit them in maintaining their productivity.
---
Education
---
Teachers can control device settings and restrict the use of apps during class to ensure that only lesson relevant material is being accessed and that the device is used to focus the students, rather than distract them from the class.
---