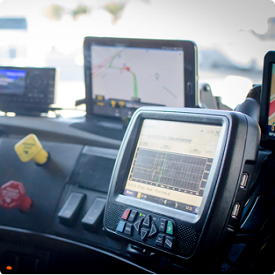 Lockdown Android Devices that run Electronic Logbook App
Many fleet owners in the transportation industry are quickly adopting Electronic Logging Devices(ELDs) to meet the deadline set by FMCSA. Electronic Logging Devices(ELDs) are responsible for tracking drivers information during their work hours. Currently, fleet owners providing company-owned Android devices to their drivers along with a truck logbook app for adequately maintaining their operation. On the way, sometime driver may misuse these devices in the form of playing video games, listening to music which might affect their concentration while driving.

Remotely manage your truck drivers
---
---
Location tracking and geo-fencing help fleet companies to track, manage and control the ELD devices of truck drivers.
Track Vehicles in Real-Time
Easily track vehicles on the go with MobiLock Pro's location-tracking feature. It provides real-time route details, i.e., location and time details for any vehicles commuting from one place to another.
Set up Geo-Fence
Set up a Geofence i.e. a virtual fence for each device or the group of devices in which they are supposed to be for work. View accurate maps of geofence on the dashboard for each device or the group and even get alerts in real-time whenever an employee enters and goes out of the geofence.
Track date, time, latitude & longitude
Get entire route history
Track location in Balanced Mode
Track location in High Accuracy Mode

Choose frequency of collecting location details
Set the frequency of collecting location
Force 'GPS always' on selected devices
Small radii geo-fence setting

Stringent monitoring
Monitor multiple devices at a time
Get location detail report
Get notification about breach in geo-fence

Set virtual work-area boundaries for truck drivers
---
---
Ensure your drivers are where they are supposed to be by setting up a virtual fence - Geofence for the mobile devices provided to them. Whenever, drivers enter or leave geofence, receive a real-time notification.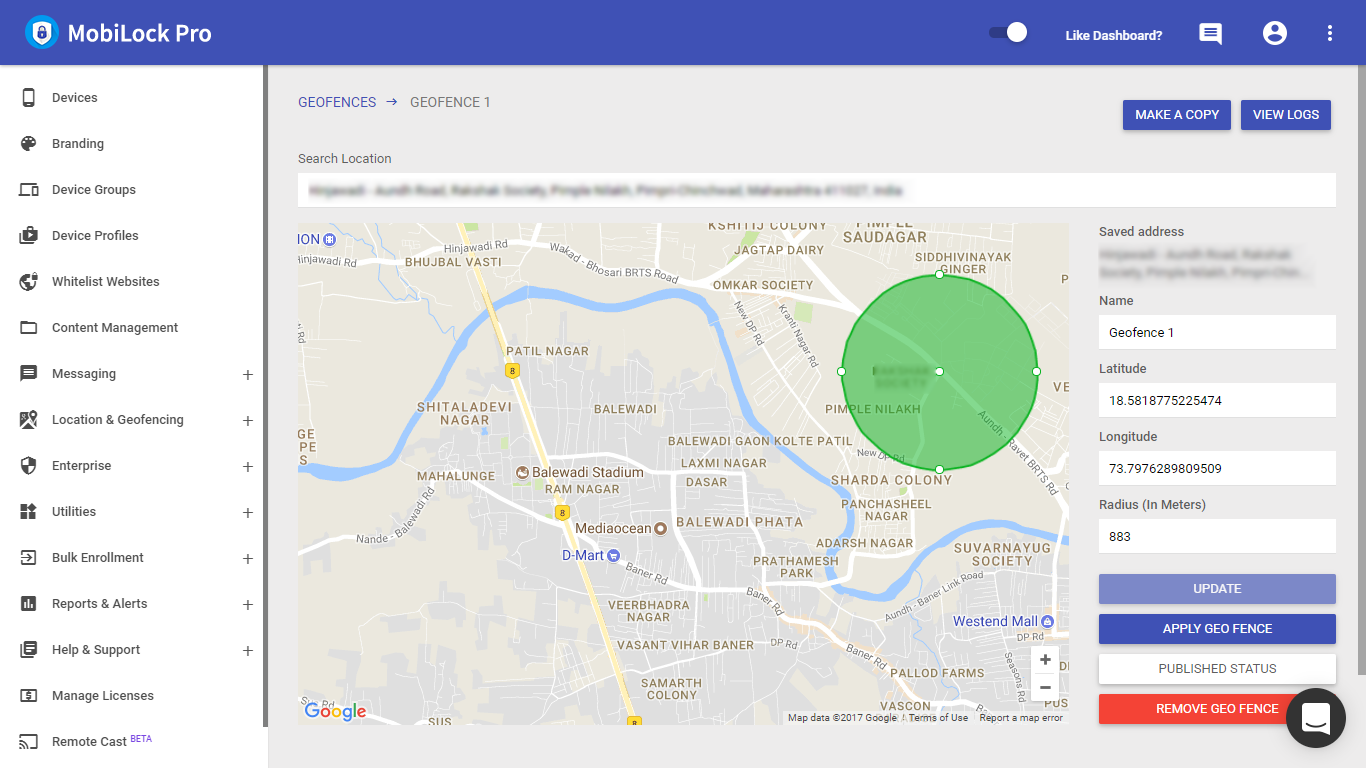 Drivers Love MobiLock Pro
---
---
"Tracking devices given to our delivery boys gives us real-time route information and notifies in case they are stuck anywhere on their way to deliver piping hot food to our valued customers"

"We are able to better monitor and manage our remotely working employees with the help of MobiLock Pro. Location history and reports generated gives us good insights about movements and whereabout of our employees at different times"

"By implementing MobiLock Pro and its feature of location tracking and geofencing, we can track our drivers and vehicles wherever they are and ensure the safety of the transportation of the goods and people"
Real-Time Alerts, Notifications & Reports
Alerts and reports gives insight into the employees activities in a specific time period which helps them manage their workforce remotely and stay observant about their movements.
Administrator receives the alerts whenever devices enter or breach the geofence, on the dashboard as well as on Eva - a monitoring app with mobiLock Pro
Detailed reports of a specific period and device, showing location and time details of the commute of any employee from one place to another.