Enterprise Mobility from your Pocket
---
---
Manage, Monitor and Communicate with your mobile Workforce with Eva
---
Who needs a laptop
With everything becoming smaller & handy, your whole digital world now resides in your palm of your hand. So, why to use laptop to check the Dashboard when EVA can give you all updates right in your smartphone.
---
Anytime, Anywhere
Manage, Monitor and Message to your workforce while you are mobile, from any part of the world, round the clock.
---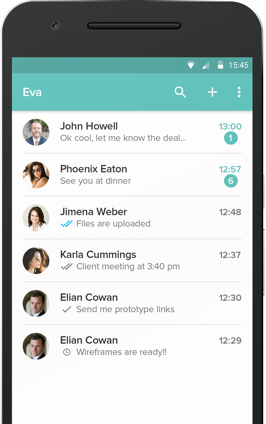 ---
One-Stop Solution
Real-time notifications of your work force devices' status, activities, locations, security incidents and have a coherent communication with your team. Eva delivers all these to you on a single plate.
---
Prompt Action
Avoid series of steps to act, when you get security incident alerts. With Eva, you just need to simply Read, Analyse and Act immediately.
---
---
Manage Mobile Devices at your Finger Tips
Get updates, notifications on your smartphone/tablet anywhere, anytime and manage devices from your palm.
What is EVA?
Simple, Smart & Secure Assistant
EVA remotely monitors your enterprise mobile devices that are locked with MobiLock Pro. It gives real-time notification and keeps you updated about your team's whereabouts, activities and their devices' security and health status. Eva also suffices as a Business Messenger giving a secure and seamless communication platform with your field force.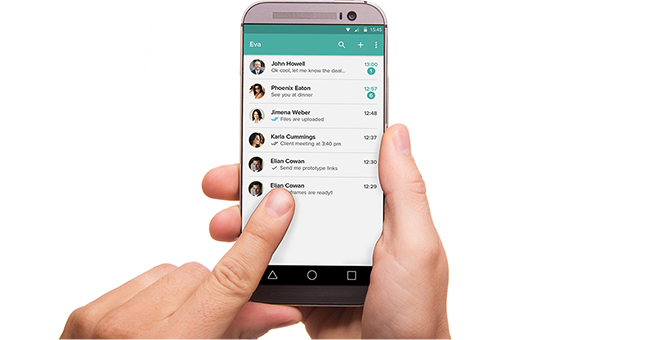 ---
Take Quick Action
Stay Secured
Get alerts in real-time whenever SIM is removed, inserted, swapped and if any theft incidence occurs by multiple attempts to unlock the device from MobiLock Pro.
Chat from MobiLock Dashboard
Quickly send and receive messages right from your computer. With EVA on the web, you can seamlessly chat with your device administrators and users from MobiLock dashboard.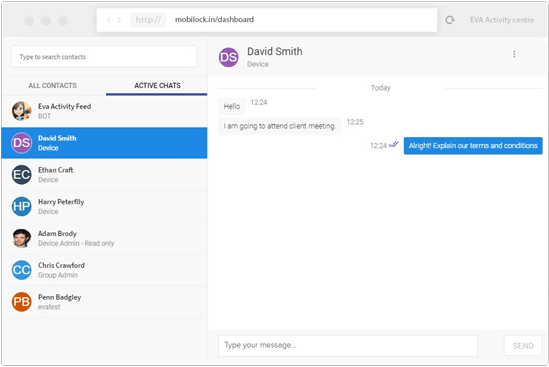 ---
Stay Connected
Exchange messages on the Go
Have one-on-one or group chat with your managers and subordinates, and stay connected seamlessly.
EVA Activity Feed
Get all the relevant information inside EVA Messenger
EVA Activity Feed is integrated with your MobiLock Pro account and notifies you about important account activities in the EVA Messenger app itself.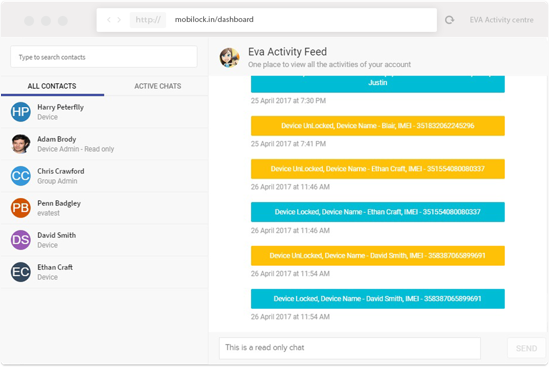 ---
Be In Charge
Anytime Anywhere
Get notifications in real-time whenever devices logs in & out of MobiLock Pro and stay informed when any device moves in or out of the set geofence.
Easily Monitor your Enterprise Mobile Devices
in real-time From Dashboard to Devices

---

---

Device Lock Notification
---
Get notified when device managed with MobiLock is locked.
Device Unlock Notification
---
Get notified when device managed with MobiLock is unlocked

SIM Incidents Notifications
---
Get notified when SIM swap incidents occur in any of your managed devices

Failed Unlock Attempts
---
Get notified when somebody attempts to exit MobiLock